30 Monedas is the most popular horror phenomenon in Spanish fiction in recent years. Although there have been many great proposals of fictions of the style in the last period, Álex de la Iglesia's series has stood out above the rest and has managed to triumph all over Europe thanks to its launch on HBO Max.
The first season of 30 Coins premiered on November 29, 2020, and over the weeks managed to become a unique milestone in the industry. Its ending, for a change with Álex de la Iglesia, raised some controversy. But what there is no doubt about is that all fans of the series are looking forward to its next season.
30 Coins Season 2 Trailer
30 Coins has just released the trailer for its second season. In just over a minute we see all the ingredients that will make up this new batch of episodes: political plots with the Church at the center, apocalyptic conspiracies, impressive monsters and characters turned into superheroes.
De la Iglesia already let slip with the first season that the plot could be seen as a long role-playing game, and in this case it is no less. In the next season we will have new characters, increasingly complex plots, dozens of adventures and great action scenes that are composed with increasingly important supernatural threats.
Undoubtedly, the trailer already makes clear the tone that the second part of the series will follow. While the first one already had large doses of terror, in this one it seems that we will reach a new level, with much bigger threats that the protagonists will have to face.
What will Season 2 of 30 Coins be about?
The first season of 30 Coins took us to Pedraza, a town in Segovia where a great curse looms because of Father Vergara, an exorcist and ex-boxer who seeks to exonerate his past and start a new life. Because of a cursed coin he keeps -one of those received by Judas for selling Jesus Christ-, it soon begins to become murky and dark.
The end of the first season of the series made the whole thing much more exciting, as the director is accustomed to. An ecclesiastical congregation in Pedraza ended with the whole priesthood fighting over coins and making it clear that the story did not end there.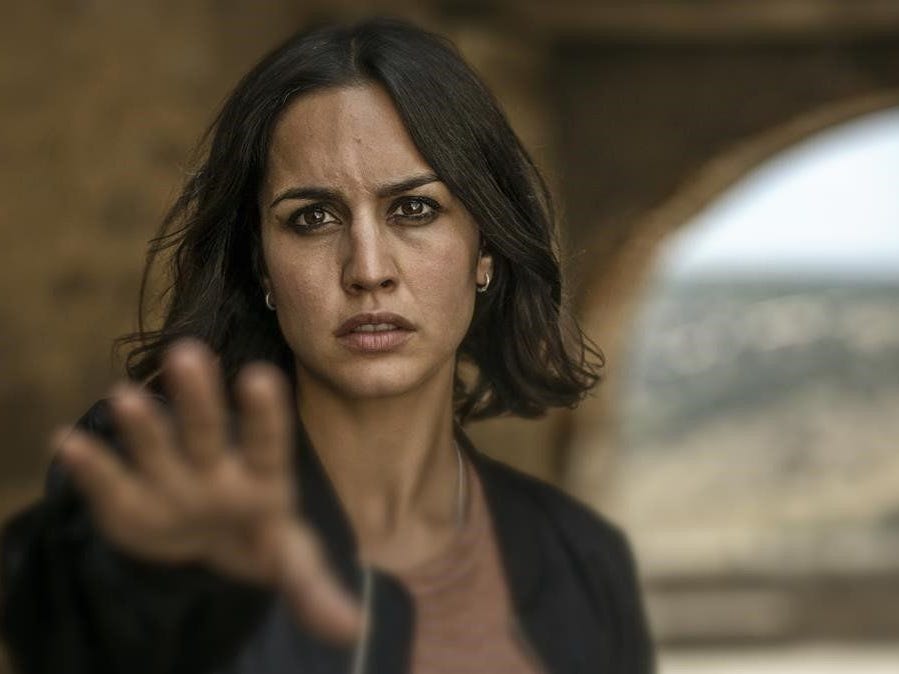 However, several points were left unaddressed in the series finale that will now be recovered in the new season. The synopsis revealed by HBO Max for this new part of the series makes it clear that we are facing chapters that will change everything:
Most of the town of Pedraza is insane, locked up in a mental hospital. Elena lies in a coma, in a dark hospital bed. Paco, wracked with remorse, tries to care for her, but it's not easy. As the horror grows around them, our group of heroes must face a new enemy. Someone so perverse that even the devil himself fears him… But what has become of Father Vergara? Has he died, along with his archenemy, Cardinal Santoro? Where are the tortured souls hiding?
What is the cast of 30 Coins Season 2?
Many of the actors from the first season will repeat in season 2 of 30 Coins. But there are other very interesting additions to the main cast, as is the case of Najwa Nimri in a role that, as we have seen in the main trailer, will be very relevant throughout the plot.
The stars of this second season are once again Miguel Ángel Silvestre (Paco), Eduard Fernández (Elena) and Eduard Fernández (Father Vergara). They are joined by the wonderful Paul Giamatti and Najwa Nimri. And the supporting cast includes Macarena Gómez (Merche), Pepón Nieto (Sergeant Lagunas) and Cosimo Fusco (Angelo).
Undoubtedly, Manolo Solo set the bar very high for the villain cast for this second season. But it's clear that Álex de la Iglesia knows what he's doing when it comes to acting, so the second season looks like it will be up to the task.
When and where does Season 2 of 30 Coins premiere?
Season 2 of 30 Coins will premiere in October 2023. If we take into account what happened with the first batch of episodes, everything seems to indicate that it will premiere during the Sitges Film Festival in 2023. Thus, it would arrive after a big premiere at the Catalan film festival, the director's favorite place.
Some of the links added in the article are part of affiliate campaigns and may represent benefits for Softonic.