Today's technology has reached such heights that we rarely think about the creators behind it all. In fact, with the Artificial Intelligence revolution we are currently experiencing, we may soon no longer have humans on board these advances.
However, we still have many geniuses and figures we can extol as the people who make possible the software and hardware we use every day. And one of these people is someone with a job that very few of us would relate to technology: a nun.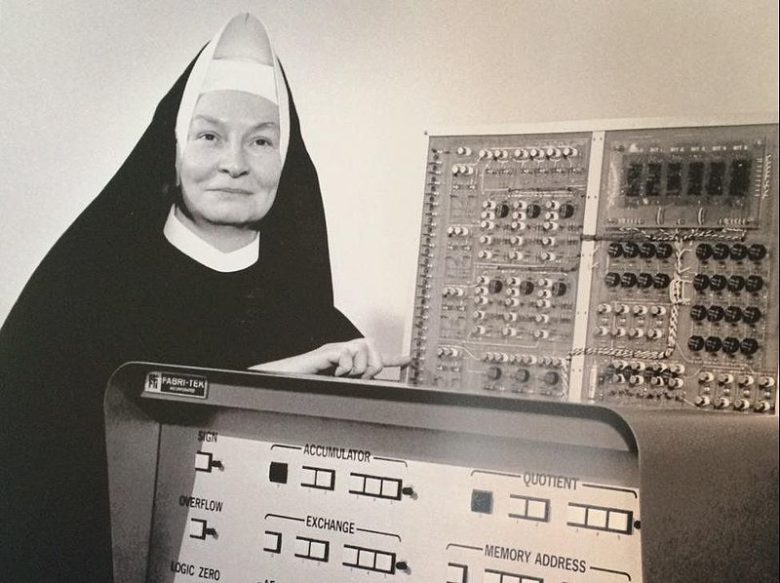 Who was Mary Kenneth Keller?
Died in 1985, Mary Kenneth Keller was a Catholic nun, a pioneer in computer science who became the first woman to earn a doctorate in computer science in the United States. Born in Cleveland (Ohio) on December 17, 1913, she came from a very Catholic family from Ireland, so she was raised to serve religion and at the age of 19 she joined the Sisters of Charity of the Blessed Virgin Mary in Dubuque (Iowa).
For eight years, Sister Keller was a novice, and then took her vows. But not content with serving God, she had interests that had little or nothing to do with being a nun, and decided to study mathematics at the university. She received her bachelor's degree in 1943, and two years later a master's degree in mathematics and physics.
Within these doctrines, what interested her most was Computer Science, and she worked on it until he began a doctorate at the University of Wisconsin-Madison in 1964. At this time she worked with a very new programming language, called FORTRAN, but a year later she created BASIC together with a team of programmers.
BASIC is the pioneer computer language in facilitating computer programming for students. This language was one of the main languages in the development of all subsequent computing, and even the first Artificial Intelligence applications that would eventually lead to ChatGPT, Bard and everything we know today.
Mary Kenneth Keller managed to earn her doctorate at the age of 52, with a thesis entitled "Inductive Inference on Computer Generated Patterns". This is something she combined with a spectacular work in the educational environment, where she was also a revolutionary.
Sister Keller also founded and chaired the computer science department at Clarke College, now Clarke University, in Dubque (Iowa, USA). Her vision of computer science was progressive and she advocated that everyone should have access to it, as she knew that it would represent our future and that we would live in an increasingly globalized world.
That is why she worked so intensely on BASIC, since it is a programming language characterised, precisely, so that everyone can learn it. She did this work at Dartmouth University, where she gained admission in 1958, when they lifted the rule of allowing only men (they had been doing so for 188 years) to accept her as a member.
Keller worked together with John Geoger Kemeny and Thomas Eugene Kurtz in the computer department, and it was there that they started working on BASIC. The nun did not believe that computer science had to be something so sectarian and wanted, as she herself did, that people of her own background or lower class could have access.
Therefore, they began to work on this programming language, which finally saw the light in 1964 and began to be used in all kinds of systems. Even today it is still used, so the work of Mary Kenneth Keller is certainly to be taken into account.
The problem, however, as with these things, is that Sister Keller is usually left out when the creators of the program are mentioned, mentioning only Kemeny and Kurtz. Be that as it may, time has proven the nun right and little by little a figure that made history in the world of computing is beginning to be extolled.