Google Bard is already a reality. Since OpenAI launched ChatGPT in November 2022 and revolutionized Artificial Intelligence chatbots systems thanks to its incredible utilities, Google has not stopped working (even activating its "code red") to compete with it and not lose this great battle. Finally, it has presented its Bard tool, which is based on the LaMDA language system and will be integrated into its search engine.
However, the announcement that Bard will generate direct responses when users search for anything on Google has caught many media outlets by surprise. Currently, a large majority of newspapers, magazines, blogs and other online media base their funding on their positioning on Google. Thanks to the various SEO strategies they carry out, they are able to appear higher in searches, and the traffic they generate results in higher advertising revenues.
These strategies to appear positioned in Google are carried out through various applications made available to the media by the company itself. On the one hand, there are the Top Stories, breaking news that rank the latest published news according to relevance. There is also Google News, a news aggregator that sorts the most relevant topics of the day and makes them available to each user. And finally there is Google Discover, a personalized tool exclusively for smartphones that recommends articles that may be of direct interest to each user.
All this is in addition to the search engine itself, which constantly updates the links it considers relevant for users and is personalized with the interests of each one. This allows the media to "compete" among themselves to position themselves as the first to give the answer, in a fight where Google always acts as the referee, when asked any relevant topic at the time (for example, when is Hogwarts Legacy coming out?).
But of course, if Google integrates in its search engine a tool that automatically answers the questions you ask, there is little business left for the media. No matter how many relevant links appear below, in most cases users will be left with the auto-generated answers, and that can cause a significant drop in traffic for most portals.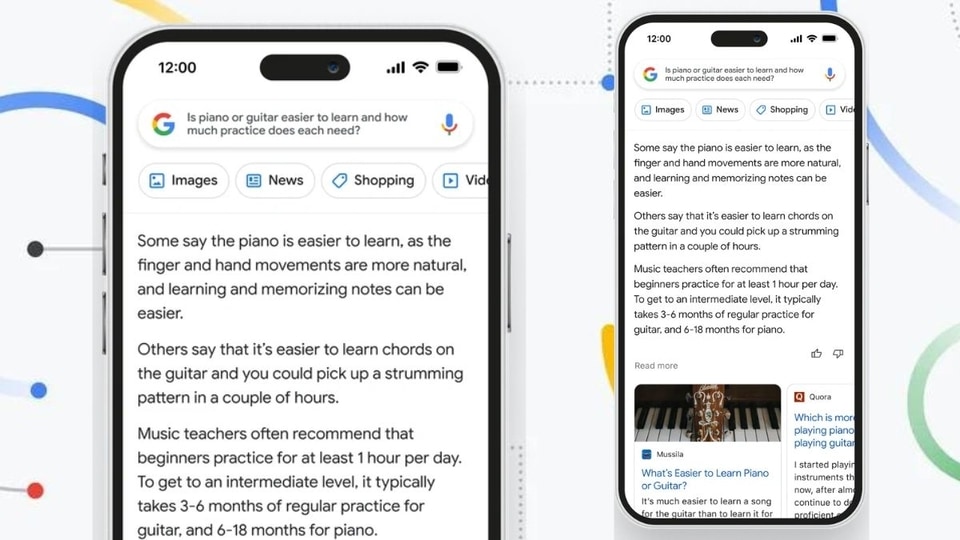 Google now generates automatic responses
Actually, if you look at how Google works these days, there are already many questions that it answers automatically through drop-down tabs. Searching for "when is Hogwarts Legacy coming out?" brings up the following options:
Each of these tabs answers the question indicated, but it does so through each specific media. The first one, for example, is from the official website of the videogame, and appears next to a short summary of the information indicated:
However, as they are answers with direct link to the media and notification of the source, the traffic may even be increased, so it is not really a bad practice. But it is very different if this process is carried out by an Artificial Intelligence and it answers you directly with the information it collects from the Internet.
ChatGPT works (and we anticipate that Google Bard will work the same way) by generating an automatic response but without crediting where it gets the information from. With such a huge database, it is obvious that you can't just go through all your sources. But of course, if the same media that provide you with this information are the ones that are later ignored and harmed by the application, why continue to generate content?
Although Google has not yet taken a position on the matter, it is clear that it will have to give an early response to all these doubts and controversies to keep everyone calm. For its part, we can take a look at how the Bing browser is implementing it with ChatGPT, where it is already being integrated for testers.
As we see in a screenshot from Computer Hoy, the AI is integrated as a section on the right where it gives you options beyond links.
This could be a way of not competing between linked search results and auto-generated answers. But let's face it, by the time AI answers become more effective, there won't be much point in digging around the web anymore.
How can the media compete against AI?
How can the media fight this sudden threat posed by chatbots? The quickest answer I can think of is through added value.
OK, links about when a game is released or what is the result of a soccer match may no longer make much sense. However, no matter how far the AI advances, it will not be able to give you a personal review of the game, tell you the most interesting facts about it or give you a detailed report of a soccer match.
In the end, at a time when AIs are already capable of writing scripts, the human factor will be a differential. Of course, the media will be affected by all these advances, but all is not lost. In journalism, we have to reinvent ourselves every few years, and perhaps this is a new opportunity to return to calmer practices that will make us reconnect with the public.