Anybody in the U.S. who has been over to the Google home page on their phone over the last couple of days will have noticed a huge change. Gone is the clean white background with the simple text box for searches; in its place is what Google is calling its Discover feed.
Google is rolling out the new Discover feature to google.com on mobile
Google has long been trying to shave precious seconds off of our search experience. What started as auto-complete on search terms has now evolved into full-blown preemption of whatever we might be searching for when we head to google.com.
The Discover feed is a series of suggested news stories and articles that Google thinks you might be interested in. Users of the Google app on Android or iOS will be familiar with the feature as Discover has been available for some time.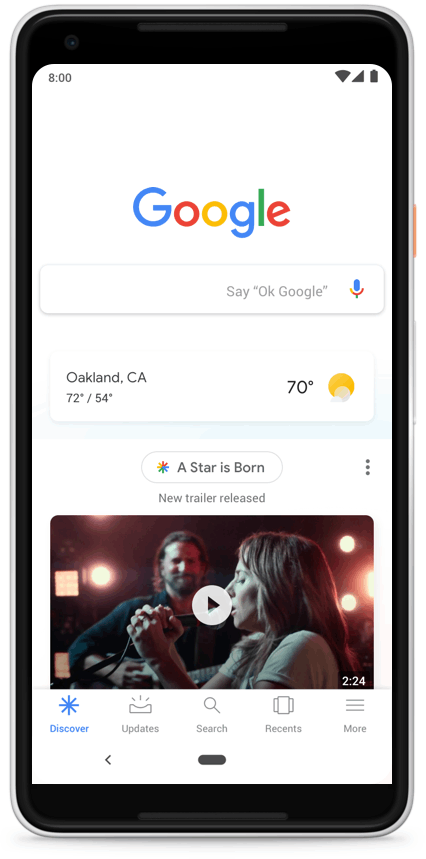 If this all sounds like magic, it isn't. Google uses information it takes from all the search queries you enter and uses it to find similar stories. If you've been searching for information about cameras or photography, Discover will likely show recent stories or posts relating to the topic. Each suggested story is shown in its own card and each card will have its own little settings menu, in the form of three small dots. Opening this menu will enable users to tell Google whether they want to see more stories relating to the card's topic or if they're not interested in it at all. A button in the bottom right of the card controls the frequency of related cards being shown.
Making Discover the face of Google rather than a search box marks a huge change for Google. It shows that the search giant is focused on the future and is looking beyond mere text-based searching.
The roll-out of Discover to google.com was announced in a blog post back in September and has now started hitting devices across the U.S. It is available across many browsers, so whether you're browsing the web on your smartphone using Firefox, Chrome, or Safari you should get the Discover feed whenever you go to google.com. Users in the rest of the world will have to wait a little longer though. Google is first working on getting Discover out in English and Spanish in the U.S. first and will then start to look at a wider international release.
If you are not in the U.S. and the idea of Google doing your web searches for you sounds new and exciting, you don't have to wait. Rather than hanging around until Discover comes to google.com you can download the Google app and take the Discover feed for a test spin right now. Just hit the link below.