Ibai Llanos continues to make Twitch history as the content creator who is able to move the most masses. After triumphing at the Esland Awards, the streamer is back with an exclusive interview with Rosalia and Rauw Alejandro, one of the few that the couple has granted and in which they have revealed a lot of news for their fans.
Rauw and Rosalía have visited Ibai's house, where they have conducted a short interview that can be seen in full on YouTube -although with some cuts that slow down the rhythm-. Among other questions, the singers have addressed the subject of their collaboration: when it will arrive, in what form and what we can expect.
RRR: the album of your love story
The most shocking news that Rosalía and Rauw Alejandro have given is that they are going to release a three-song album next March 24. Under the name RR -as they explain to Ibai, their two initials-, the album will have three singles very different from each other, but that complement each other well and tell a kind of sensory story.
As they have explained, one of these songs will be a bolero, since it is a genre that they listen to a lot at home and that they wanted to tackle. It will be a perfect song "for a Sunday afternoon", as the Puerto Rican artist says. But, although they take the genre as a base, they have contributed their specialties as artists to give it a much more modern touch.
The other two songs will also be "exotic", but much more danceable. Rauw assures that "they will be played in the clubs", and that they have made them "thinking of their fans", so we can be sure that we won't stop listening to them for a long time.
Tensions between Rauw Alejandro and Rosalía at the time of creating the record
As for the production of the album, Ibai has managed to put his finger on the sore spot on more than one occasion. When asked who has had to adapt more to the other person, Rosalía and Rauw quickly agreed that the one from Sant Esteve de Sesrovires is much more perfectionist and finds it harder to accept certain inputs in the production, making it more complex and convoluted.
However, Rosalía has defended herself by saying that Rauw Alejandro is also stubborn on certain issues. And, although he has commented that he "flows" much more and tries to adapt, he has also recognized that he has had to make an alliance with the rest of the producers of the album to get his way on certain themes.
Be that as it may, both seem very happy with the final result, which we will be able to listen to this very Friday. And not only listen! Although they didn't want to give many clues, they have made it clear that at least one of the three songs on the album will have a video clip. And, when Ibai asked if the three of them will have audiovisual reinforcement, Rosalía simply said that they have put "a lot of love" into it.
Why did it take you so long to launch a collaboration together?
Many other topics have been touched in the barely 24 minutes of interview. Neither short nor lazy, Ibai Llanos began by asking if the reason for the announcement is that they are going to get married. Quickly, the face of both has revealed that this is still far from their plans, and that for the moment they will have to settle for the album.
However, they didn't release the album until three years into their relationship. The reason? According to Rosalía, they "didn't want to mix industry with life", and that they first wanted to know each other well enough on all levels – especially in their personal lives, but also artistically – so that when the moment of truth came, it would be the best work they could do.
On the other hand, they also commented on the beginning of their relationship. Rosalía explained that at the beginning she thought he would be a "bad boy" -something that Ibai also agreed with-, but she soon realized that he was a sensitive and very different person.
She has also explained that he helped her to regain faith in men, as she was tired of the attitude of those who had passed through her life – a reference to C Tangana – but Rauw Alejandro showed her that he was made of different stuff. A beautiful love story, come on.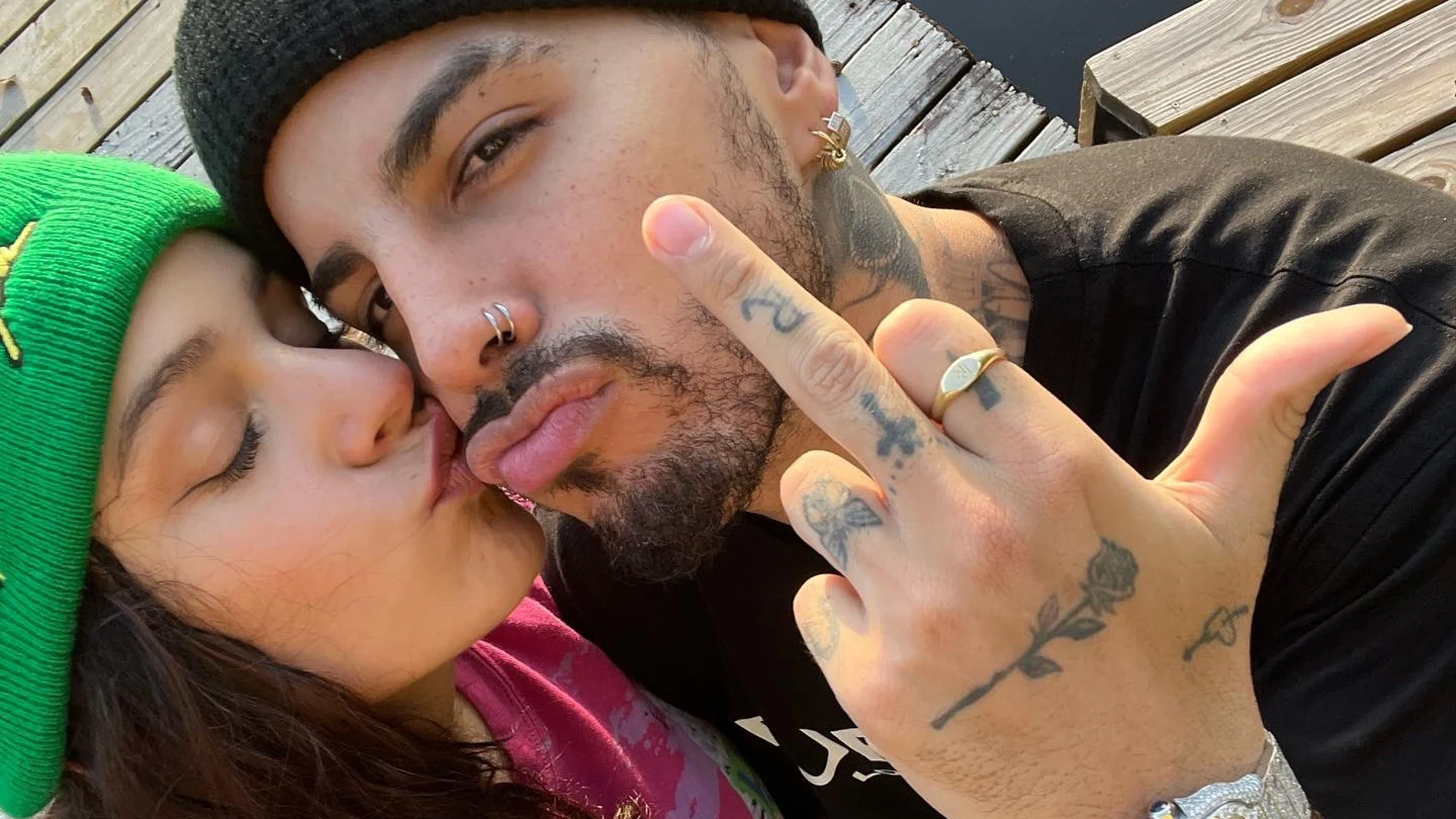 The tattoos of Rosalia and Rauw Alejandro
Another funny moment of the interview was when Rosalía and Rauw Alejandro showed that they both have tattoos on each other. Rauw showed his two tattoos as a tribute to their relationship: the one with Rosalía's name and the one with the initials RR, in honor of the title of the album.
For her part, Rosalía went to show the tattoo she has of her partner… but it was not seen on camera. At the moment of lifting her shirt, Ibai covered the camera and it could not be seen. This moment, although it seems casual, imitates when Rosalía and Rauw had their first live kiss, at LOS40 Music Awards in 2021, and Ibai -who was presenting- covered it by standing in front of it. It can't help but be a meme.
Finally, we are left with a moment that speaks very well of the artists. Instead of having their own Grammys at home, all of them – Rosalía's 13 and the one Rauw has – are at their respective mothers' houses, as having them at home would be seen as "egomaniacal" and would make them lose perspective of who they really are.