In the nineties, violence in video games began to find its place with the first Doom or fighting games like Street Fighter II, which conquered the arcades and ended up becoming cult sagas. However, the videogame that marked a before and after in violent titles, which became the subject of controversy in all kinds of debates, was Mortal Kombat.
With its appearance in episode 1×07 of The Last of Us and Mortal Kombat 12 announced for release later this year, the NetherRealm Studios franchise is at an unbeatable moment. Therefore, let's take a look back at its entire history and remember what made this video game an arcade classic.
The history of the first Mortal Kombat
In 1987, Street Fighter II hit the arcade machines as a revolution for gamers. At that time, there was already a first part that passed without glory and some other fighting title that imitated it. Everything was still "in the field" in the sector, and yet there were already people who had become, based on coins and hours in front of the joysticks, great experts of the genre.
This was the case for Ed Boon and John Tobias, a pair of game designers working for Midway Games who were among the first to join the fighting game craze. Boon and Tobias met at the height of the Street Fighter II boom and, after several hours of gameplay and many talks about it, they came to a conclusion: it wasn't hard enough for them.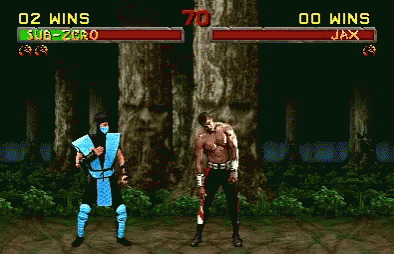 Without a doubt, Street Fighter II was a violent video game. Characters pummeled each other in every possible way and rewards were given to those who attacked the hardest or managed to defeat their opponent without being harmed. It was one of the most controversial games at the time, but there was not a trace of blood. Street Fighter II was pure adrenaline for the kids of the time, but Boon and Tobias wanted to take it up a notch on the violence scale. If kids wanted to tear their friends apart, they would do it for real. And so Mortal Kombat was born.
At first, the pair of developers intended to follow the success formula of those years. That is to say, they wanted to have big stars to promote their video game. At first they thought of Steven Segal and Jean-Claude Van Damme -the latter, by the way, ended up being the star of the Street Fighter movie– but they received a refusal from both of them.
Far from giving up, they decided to take this bump in the road as an opportunity. They would create their own characters, their own universe and their own rules. They would take everything they thought the kids of the time needed and form a virulent cocktail that would leave no one indifferent.
Predictably, Mortal Kombat was an overwhelming success. It was released for both SNES and Mega Drive and became the best-selling video game of 1993. However, its violence was too extreme to be freely indulged in. If Street Fighter had created the mythical combos, Mortal Kombat did the same with fatalities, the ultimate moves of each character.
Instead of being simple judo wrenches, Mortal Kombat fatalities were breathtakingly grotesque. Kano would rip out his opponent's heart, which was still beating in his hand. Cage would punch his opponent's head clean off. And Scorpion would burn his opponent to a mere skeleton.
Although the violence remained almost intact, Nintendo decided to remove all the blood that appeared in the title. For its part, Sega had the idea of keeping the game as it was, leaving the responsibility in the hands of the parents who bought the video game. Even so, they ended up censoring also the moments of maximum violence, but including a code that, when added in the game, unlocked the original and bloody version of Mortal Kombat.
Had it not been such a huge success, Mortal Kombat would not have become such a controversial title. But when it reached the whole world, many parents and members of child protection associations were shaking their heads. Controversy was rife. Video games quickly gained a reputation for being violent for children. No matter that Mortal Kombat was one title among hundreds, everyone outside the industry ended up falling into the discourse of violence.
In order to combat this problem, Sega promoted an age rating system that mimicked that of movies. And Nintendo, although it fought for months to defend that its competitor was to blame for everything, ended up joining the system.
In addition to the obvious controversy it brought with it, Mortal Kombat confirmed what dozens of developers had been announcing for years: video games were no longer just for kids. Most gamers were still kids – many of us who remember Mortal Kombat with nostalgia did not reach our thirties – but that could not paralyze the industry. Gamers were growing, user profiles were multiplying and developers didn't want to be stuck with Mario and Sonic.