We continue to bingo with our proposals for crazy castings of series and movies that reinvent what we already know. Thanks to ChatGPT -which gives us weird ideas but some of them strangely functional- and Stable Diffusion -which gives shape to nightmarish images about the other AI's ideas-, we have several impossible reboots: Twilight, The Avengers and Game of Thrones.
Now, it's time to try the greatest of the sagas: Star Wars. Although the franchise has been a hit for several years now through Disney Plus, we have set out to reinvent it from scratch. That's why we asked ChatGPT what a reboot of the saga would be like with the main characters: Luke, Han Solo, Leia, Darth Vader, etc.
On this occasion, the results are very, very outlandish. Despite the fact that the main trio fits quite well with what could become a remake of the franchise, when we get to Yoda or R2-D2 things get out of control… and we love that.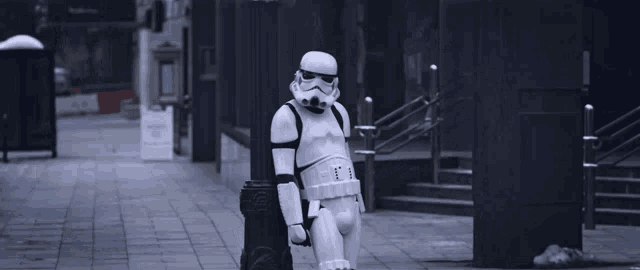 The ideal actors for a Star Wars remake according to ChatGPT
The first thing we have done is to ask ChatGPT which actors he imagines in the leading roles. We reproduce the conversation below. We have detailed what we want in concrete terms so that the OpenAI tool does not get lost. And their proposals are, to say the least, curious.
The conversation was as follows:
Create the perfect casting for a Star Wars reboot shot in the present day. I need the perfect actors for: Luke Skywalker, Han Solo, Princess Leia, Obi-Wan Kenobi, Darth Vader, C-3P0, R2-D2, Chewbacca, Palpatine, Lando, Yoda, Boba Fett and Jabba the Hutt.
Of course! Here are my picks for casting a Star Wars reboot, shot in the present day:
Luke Skywalker: Tom Holland
Han Solo: Chris Pratt
Princess Leia: Emma Stone
Obi-Wan Kenobi: Ian McKellen
David Harbour as Darth Vader
C-3PO: Simon Pegg (voice)
R2-D2: Kenny Baker (voice, robotic interpretation)
Chewbacca: Vin Diesel (physical interpretation)
Palpatine: Christoph Waltz
Lando Calrissian: Michael B. Jordan
Yoda: Frank Oz (voice, robotic interpretation)
Boba Fett: Pedro Pascal
Jabba the Hutt: Andy Serkis (voice, robotic interpretation)
Of course, there are many different choices for these characters and every Star Wars fan will have their own opinions. But in my opinion, this would be a very solid selection of actors for a modern Star Wars reboot.
However, there are two actors that should be changed – Frank Oz and Kenny Baker. The former because he's too old – he's 78, maybe we should leave him alone – and the latter because he's… dead. Watch out for their counter-proposals:
For R2-D2:
Art Parkinson: is an Irish actor known for his role as Rickon Stark in Game of Thrones. Although he's young, he has experience working on large-scale projects and could bring a fresh touch to the robotic interpretation of R2-D2.
For Yoda:
John Boyega: is a British actor best known for his role as Finn in the new Star Wars trilogy. Although Boyega has no experience voicing animated characters, his acting talent and familiarity with the Star Wars universe could make him a good choice to play Yoda.
Creating Star Wars casting with AI
Once ChatGPT has done its job, we went to Stable Diffusion to see how these actors would look like playing their respective characters. And the truth is that we have been surprised for the best… especially in the main characters, because the others are not very well done.
Tom Holland as Luke Skywalker
Chris Pratt as Han Solo
Emma Stone as Leia Organa
Ian McKellen as Obi-Wan Kenobi
David Harbour as Darth Vader
Simon Pegg as C3-PO
Art Parkinson as R2-D2
Vin Diesel as Chewbacca
Christoph Waltz as Palpatine
Michael B Jordan as Lando Calrissian
John Boyega as Yoda
Pedro Pascal as Boba Fett
Andy Serkis as Jabba the Hutt
Some of the links added in the article are part of affiliate campaigns and may represent benefits for Softonic.