Bargain season is upon us! As Black Friday rapidly approaches, many shops and stores have already started releasing deals in the run-up to the big weekend. If you're hoping to bag some bargains this Black Friday, or if you've got your eye on a certain bit of tech you can count on us. We'll be bringing you all the best deals so that you don't have to spend hours trawling through online stores.
Let's get started then with today's best deals:
Best Black Friday Deals for Monday, November 20
7.1 Virtual surround Stereo Sound Over-Ear Gaming Headphones Wired USB LED Light With Mic Volume Control For PC/ Laptop
Hear the action all around you with this surround sound gaming headset. Whether you're barking orders at your teammates online or if you just want crystal clear sound and music when playing alone, this Sades Headset will have you covered. At this price, you'll have won before you even start the game.
£46.99  £22.99 Buy it now
Wired Ergonomic Mice With Adjustment DPI, 6 Buttons, Extra Weight for PC Laptop Desktop Notebook
This is the perfect mouse for anybody into their gaming. Ergonomically designed to fit your hand perfectly, the Raptor enables comfortable and efficient gameplay. It's a great mouse for general web browsing, too, and at the moment it is cheap cheap cheap.
£8.99 £7.99 Buy it Now
SONY PlayStation 4 Pro & FIFA 18 +  SONY PlayStation Plus 3 Month Subscription +  PLAYSTATION 4 Fallout 4 – for PS4 +  SONY Call of Duty WWII
The new PlayStation 4 Pro is the most powerful game console Sony has ever built. With a whopping 8GB of RAM and offering crystal-clear graphics, the PlayStation 4 Pro will simply blow away all who play it. This bundle comes with some of the best games available, too.
£457.96 £319.99 Buy it Now
MICROSOFT Xbox One S with Minecraft +  Fallout 4 – for Xbox One +  MICROSOFT Xbox One Doom +  MICROSOFT Star Wars Battlefront 2 +  MICROSOFT Forza Motorsport 7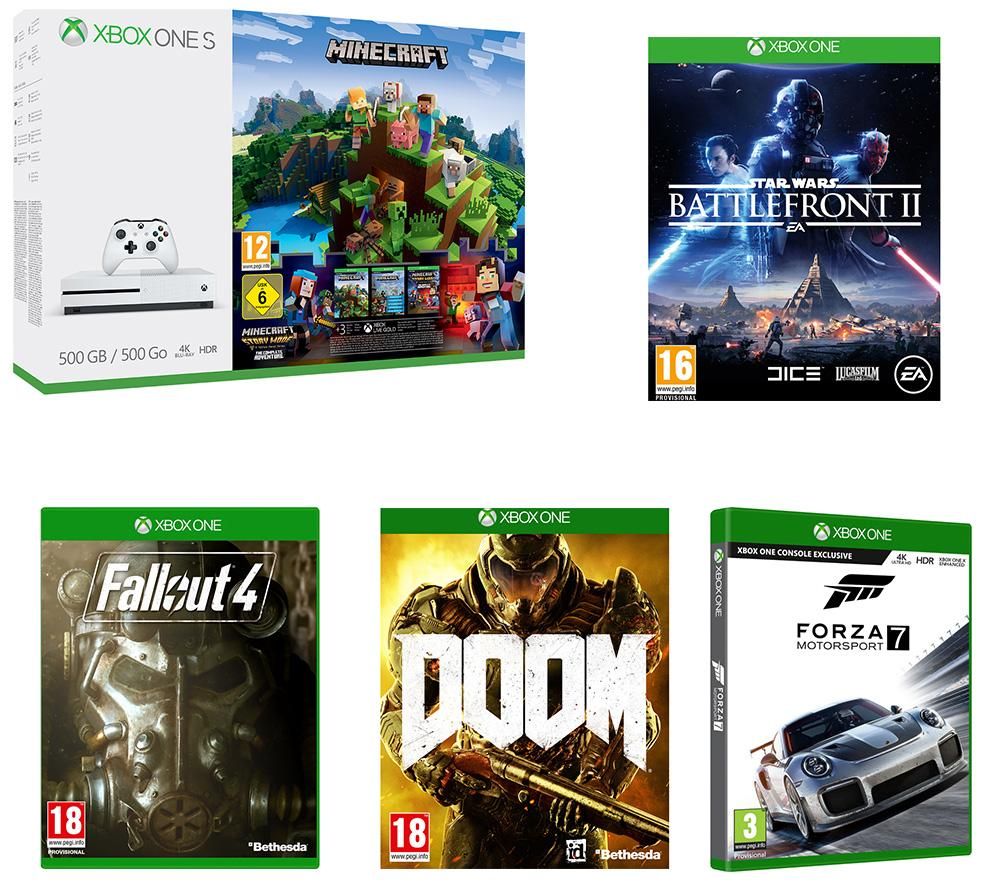 If you've always had an Xbox rather than a PlayStation, you might want to know that there are some excellent deals going around for the Xbox One S. This is the best one we found, and it comes with games that'll keep you playing long into 2019, never mind 2018.
£402.95 £210.00 Buy it Now
True Wireless Headphones, Syllable D900 Mini Wireless Bluetooth Earbuds In-ear Sport Earphone Noise Cancelling Headphone Sweatproof Headsets with Mic for iPhone Samsung Sony Tablets Smart Phones Come with Intelligent Charging Box
Everybody has heard about Apple's wireless air pods, but everybody also knows that they're really expensive. These Bluetooth earbuds from Syllable offer the same truly wireless experience and at the moment you can get your hands on them for only £26.99.
£79.99 £26.99 Buy it Now