The great technological titans, especially Meta, have been betting for a couple of years on a virtual concept that, although we all know it well since the origins of the Internet, has never been given the importance it has today: the metaverse.
A metaverse is nothing more than an online universe, an out-of-reality environment where users can connect with each other and interact through avatars. In theory, today we dream of Ready Player One-style metaverses, but the truth is that we are only at an advanced stage of what we have already known for decades with Second Life.
But before Mark Zuckerberg's light bulb lit up with this metaverse, those of us who grew up with the birth of the Internet already knew an environment very similar to what the entrepreneur dreams of. A proto-metaverse set in a hotel, based on buying clothes and objects and showing your power through all kinds of possibilities: Habbo Hotel.
Who doesn't remember Habbo Hotel? Those of us who were children or teenagers in the early 2000s in Spain found in that orange hotel full of rooms a refuge in which to inquire about an online universe that was still beginning to take shape. It was one of the first places on the Internet where everything was possible, but also a nest of dangerous malpractice when no one knew how to explore the limits of the network.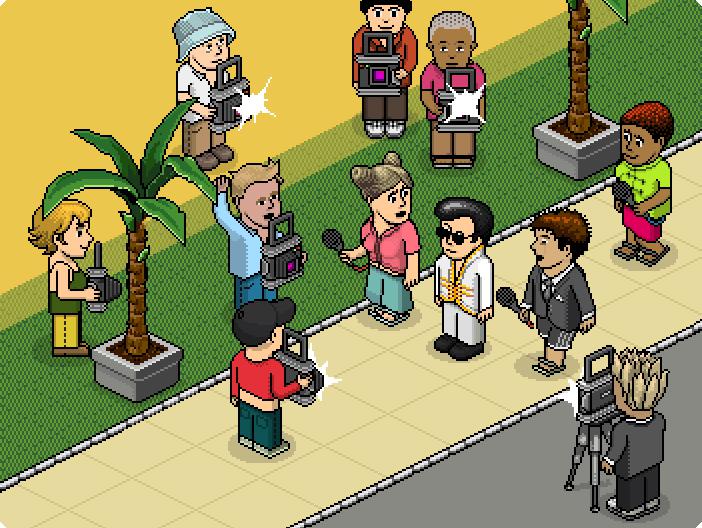 Laying the foundations of the metaverse
Habbo Hotel is a video game created by the Finnish company Sulake Corporation in 2000. Its original name was "Hotelli Kultakala" (Goldfish Hotel), but the name was changed to "Habbo Hotel" in 2001, with the idea of extrapolating it to more countries. At first, it was available only in Finland, but quickly expanded to other countries in Europe and Latin America.
In 2003, Habbo Hotel arrived in Spain, becoming an instant hit among the country's youth. It was an unprecedented success elsewhere, and all thanks to word of mouth that in the 2000s was more effective than ever. In a short time, Habbo Hotel became one of the most popular online games in Spain, but its fame also spread worldwide and it became a global benchmark.
The idea behind the game was to create a virtual space where users could interact with other players from all over the world, through personalized avatars and chat rooms. It was not something new, since at that time there were already MMORPGs and simulators such as The Sims. But the simplicity of Habbo Hotel and the fact that it was free made it much more accessible to everyone, especially children and young teenagers of the time.
Habbo Hotel's popularity was not only due to its innovative concept and simplicity, but also to its design and multiple possibilities. Users could create their own chat rooms, set up as hotel rooms for each avatar, and customize their avatars with a variety of clothing and accessory options. In addition, Habbo Hotel offered a wide variety of games and activities for users to entertain and socialize with other players.
But beyond the official games and activities, Habbo Hotel was all about the creativity of its users. As would happen shortly after with Minecraft, it was a unique environment in which, with just a few possibilities, players created all kinds of games for other users.
Thinking back, in Habbo Hotel I remember playing soccer, wrestling in wrestling matches, participating in TV contests and playing "dating" -something quite dangerous, if we think about it-. And all this through the few mechanics provided by the game itself. Everything came from the users.
An unprecedented milestone
Habbo was one of the first titles to popularize free-to-play with add-ons. The kids who could afford it had the best clothes, the best hairstyles and the best furniture. The rest of us, unless we stole our parents' phones to send expensive SMS, had to make do with the basics.
In 2004, Habbo Hotel reached an important milestone by surpassing 10 million registered users worldwide. This made Habbo one of the largest and most successful online games of its time. Since then, the game continued to grow and evolve, with new features and improvements to the user experience.
Habbo grew in parallel to Messenger and, soon after, to Faceboook. It was a perfect game to interact with the other social networks of the time, and a perfect environment to understand all the possibilities that awaited us both on the Internet and in the world of video games.
It was, without a doubt, a milestone to be taken into account. And although it was dying due to wear and tear, the creation of new titles that improved Habbo in everything and the adaptation to cell phones, it undoubtedly marked an era and laid the foundations for everything that came after.
Now, reconverted as a new haven for users who had great success during the pandemic, it has remained as a nostalgic place but still, even so, they continue to create new trends that may come to mark future generations.