Last February,  Google first announced its plan to add AMP to Gmail. AMP, which stands for Accelerated Mobile Pages enables developers who follow Google's guidelines to have their content accessed more quickly, allowing a chance to display better and more dynamic content. Now, more than a year after the first announcement, Google is finally releasing a beta of AMP for Gmail to its G Suite audience.
AMP will introduce shopping carts, surveys and forms, interactive widgets, and more to the emails in your inbox
What Google is calling dynamic email will have a major impact on the messages you receive in your Gmail inbox. In theory, that means you won't have to leave Gmail to handle your business. As well as adding interactive elements, email content in dynamic emails will be able to update itself so that emails never become old.
According to the Google Keyword blog, which announced that AMPed up emails were finally landing on Gmail, "Your emails can stay up to date so you're always seeing the freshest information, like the latest comment threads and recommended jobs. With dynamic email, you can easily take action directly from within the message itself, like RSVP to an event, fill out a questionnaire, browse a catalog or respond to a comment."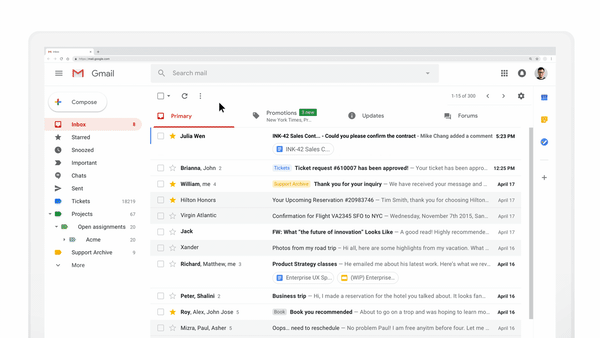 The simplest example Google gave is of comments in Google Docs. Rather than receiving a notification every time somebody mentions you in a comment, the email will include an up to date thread where you'll be able to comment yourself. This is much better than a simple link to the comment inside Google Docs.
As well as introducing its own Google made widgets, Google was also pushing the third-party widgets that are already doing the rounds. These include widgets from the likes of Pinterest, booking.com, Doodle, and more.
Response to the introduction of AMP into Gmail is mixed. Where as it can't be denied that the added functionality will help users in some situations, people are highlighting the heavy cost for the privilege.
As well as facilitating quick responses and adding web page like features to your inbox, AMP could limit your personal privacy and give advertisers and vendors a new place to bombard you with whatever they're trying to sell. Many users on Reddit have already started repeating the old adage, "If it is free, then you are the product." Another issue for Gmail's new interactive emails could be complexity. Are emails supposed to be so complicated?
For now, the feature is available to users on desktop only, but Google was keen to point out that it will be coming to mobile soon.
What are your thoughts on interactive emails?