Risk is the key to success, and this is something that Damon Lindelof seems to be very clear about. The creator of The Leftovers, Lost and HBO Max's wonderful Watchmen has just launched his latest series, Mrs. Davis, and it's the craziest, funniest, catchiest, quirkiest and most thoughtful series so far this year. And when you know what it's about you'll realize I'm not exaggerating.
Premiered on HBO Max on April 20 in a batch of four episodes, the series will premiere four more in the following weeks, until the last one on May 18. It has premiered with some silence from the platform, perhaps because it comes directly from Peacock and is not an HBO original… or maybe because it's so weird that they don't even know how to market it.
However, after watching the first four episodes of the season, we can conclude that this is one of the most risky bets in fiction in recent years. And this has a double reading: either you love it, it catches you and drives you completely crazy -as it has happened to me- or it does not interest you at all.
But, be that as it may, it is worth trying to see, at least, the first episode of the season. Because if it catches you, Lindelof's new bet will automatically become one of your reference series. And if it doesn't, at the very least, you'll have taken away a psychedelic experience and hands to your head to exclaim: "but how did someone greenlight this!".
The Holy Grail against Artificial Intelligence
But why is Mrs. Davis so weird? We could sum it up as a 21st century nun's quest for the Holy Grail to defeat an Artificial Intelligence that has taken over the world. But I'd better tell you the synopsis so you'll understand a little better what I'm trying to tell you:
"An artificial intelligence called Mrs. Davis seems to have captivated all of humanity with her personality, but in reality she hides a dark secret: The AI Mrs. Davis intends to provoke a global collapse and wipe out humanity. The way to achieve this is unknown, but those who follow her are sent on "Missions" in order to win her "Wings".
The only one who is not infatuated with Mrs. Davis and is aware of her intentions is a determined nun named Simone, who will stop at nothing for the sole purpose of destroying the AI and saving humanity."
As a mixture of Black Mirror, The Warrior Nun, Indiana Jones and Twin Peaks, the series stands as an adventure story full of comedy but with a dark undertone behind. And the fact is that, although we have a great time with the protagonist, played by a Betty Gilpin in a state of grace, what fiction tells us is something quite hard and that really leaves us thinking.
A hilarious Black Mirror
The most important thing about Mrs. Davis is that it is a profoundly topical series. With the rise of Artificial Intelligence through tools such as ChatGPT, Bard or Stable Diffusion, more and more people are asking all kinds of questions about AI: will it end our work, will it overtake humanity, will it make us its tools in the long run?
And basically all these questions are answered by Mrs. Davis. The AI we meet in the series has a great sense of humor and carries out very convoluted strategies to achieve her goals, but her greatest power is the one she has to control everyone at will: humans are, for Mrs. Davis, tools with which to achieve her goals.
It is, therefore, a series full of edges and that, behind its goofy tone and its sometimes absurd humor, hides a very interesting reflection that, on the other hand, is what we are used to Damon Lindelof. Of course, here we will not have as many unresolved cliffhangers as in Lost… or so we hope.
In the name of the mother
The other key theme of Mrs. Davis is the opposite of technology: faith. Although Simone is not exactly a nun, she does use everything in her power to fight against the AI, and that integrates her profuse faith towards God. Religion is very present in the series, but in a very different way from what we are used to. It is, of course, a much more modern series.
But Mrs. Davis' world also integrates magic… or so it seems. There is the Holy Grail, which is the tool that the AI is so eagerly seeking, so that it is a constant diatribe between the real and the imaginary, the dreamlike and the earthly. And, furthermore, it makes it very clear how humanity is playing God with the new AIs.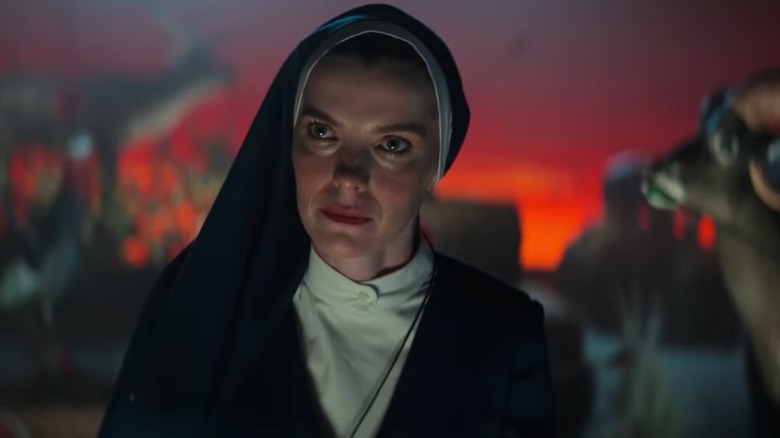 In short, Mrs. Davis is a series worth admiring, if only out of curiosity. There are many reasons why it can catch you: its plot, its interpretations, its surrealism, its reflection on the world and its adventurous tone. But above all, it is the umpteenth irrefutable proof that Damon Lindeloff is one of the best showrunners in the history of television.
Some of the links added in the article are part of affiliate campaigns and may represent benefits for Softonic.