If you're the kind of person who enjoys catching up on your favorite shows on the weekend, we're sure you are already planning to spend some of these long end-of-summer days watching series with your family. But when you look for something to watch in Netflix's huge catalog, you might feel overwhelmed. It has hundreds of shows, so there's something for everyone, but which one should you choose?
If you're the sort of person who likes to spend your summer evenings in front of a fun TV show that puts a smile on your face, you'll definitely be interested in this article. Below is a selection of what we consider to be the best summer series on Netflix. They're light, entertaining, and easy to follow, which makes them perfect to enjoy over the weekend, when fun is all that matters. We hope you like them!
Three Steps Above Heaven
We're sure you remember the legendary teen film starring Mario Casas and based on the novel by Federico Moccia. In its adaptation for Netflix, we'll meet different protagonists and focus on the love story of Ale and Summer. Young love is back along with beautiful beaches, outdoor festivals, complicated situations, and of course, lots and lots of passion. It's perfect if you want a refreshing summer series.
WATCH THREE STEPS ABOVE HEAVEN ON NETFLIX
High Seas
High Seas is an entertaining show that will hook you from the first episode. It focuses on the adventures of the transatlantic ship Bárbara de Braganza and its diverse passengers. Each character has a story, goals and plans to fulfill after their long journey from Spain to Brazil. However, their pleasant cruise turns into a nightmare halfway through the voyage when somebody is murdered. Can they catch the murderer before new victims turn up or the ship reaches its destination?
Bloodline
Bloodline is a police series that you won't be able to stop watching. It tells the story of the mysterious Rayburn family, the owners of a hotel in the Florida Keys and the keepers of many secrets. Everything seems to be going well for the Rayburns until one day, their eldest, Danny, comes home and threatens to reveal all of the family's secrets. This is the moment that kick-starts Bloodline, a series full of mystery, suspense, and plot twists that will keep you glued to the screen all summer. Don't miss it!
The Healing Powers of Dude
This is a great series for anyone who has ever had trouble fitting in. We'll follow the adventures of Noah, an introverted 11-year-old boy with social anxiety disorder who has a hard time making friends. He just started school and things are not going well, because he is struggling to relate to the other kids. To help reduce stress, Noah's parents buy him a little dog named Dude to take with him to class. Follow Noah's adventures and laugh, cry and have fun watching Dude become his greatest supporter.
WATCH THE HEALING POWERS OF DUDE ON NETFLIX
H2O: Just Add Water and Mako Mermaids
H2O: Just Add Water is a classic summer series. You've probably seen an episode at some point of your life, but why not have a marathon this summer? Follow the adventures of Rikki, Emma y Cleo, three teens who live on the coast and who, after an accident, turn into mermaids whenever they get wet. As you can imagine, this isn't an easy secret to keep, especially when you live by the sea… will somebody find out?
WATCH H2O JUST ADD WATER ON NETFLIX
Mako Mermaids
If you like the above series, you should definitely check out Mako Mermaids, a spinoff where, instead of three girls who turn into mermaids, the protagonists are three mermaids who have turned into humans.
WATCH MAKO MERMAIDS ON NETFLIX
Hilda
Are your kids stuck at home and bored over summer vacation? If the answer is yes, we recommend watching Hilda with them. This beautiful animated series was made to teach the kiddos how to protect the environment and the importance of imagination. In it, we'll follow the adventures of Hilda, a little girl who lives in an enchanted forest and meets all kinds of fantastical creatures in every episode. Imaginative and full of good vibes, Hilda is a series you cannot miss!
Creeped Out
Taking over for classics like Goosebumps or Are You Afraid of the Dark?, Creeped Out is a horror series for teens and young people that adults will also enjoy. We'll meet The Curious, a boy whose face is always hidden under a mask and who is a horror story collector. Each episode features one of these stories, which are perfect for relaxing in front of the TV after a big summer meal.
Malibu Rescue: The Next Wave
This original Netflix series is perfect to watch with the kids. Malibu Rescue: The Next Wave is the story of a group of teen lifeguards nicknamed The Flounders. This junior rescuer elite will contend with the trials and tribulations of their teenage years while saving lives on the paradisiacal beaches of Malibu. It's great if you're looking for a lighthearted, fun, unpretentious series.
WATCH MALIBU RESCUE: THE NEXT WAVE ON NETFLIX
Lost in Space
Irwin Allen's legendary series Lost in Space has a new remake on Netflix. In it, we'll follow the adventures of the Robinson family, a group of space travelers who get lost and wander from planet to planet as they try to find their way home. Whether you're a fan of the 1960s series or are seeking the perfect, fun way to get your kids interested in sci-fi, Lost in Space is a great choice. Follow Will Robinson and his family through the universe once again, and never trust the sly Dr. Smith, who is always up to no good.
WATCH LOST IN SPACE ON NETFLIX
The A List
The A List is an excellent British series full of thrills and mystery. It follows the adventures of a group of teens who go to a summer camp on the mysterious Peregrine Island. However, the camp isn't what they expected. Strangely, their phones lose their signal, nobody is there to meet them or supervise them, and somebody (or something) is spying on them in the woods. Packed with mysteries, scary moments, and a good dose of teen drama, The A List is sure to keep you glued to the screen this summer.
Greenhouse Academy
Do you like teen dramas? What about mysteries? If the answer is yes, you'll love Greenhouse Academy! This fun Netflix series follows a group of wacky teenagers who attend Greenhouse Academy. There, they'll balance school work with the typical dramas and romances of youth and intriguing mysteries to solve. It's perfect if you're looking for a fun, lighthearted series that can keep you entertained for hours.
WATCH THE GREENHOUSE ACADEMY ON NETFLIX
A Series of Unfortunate Events
A Series of Unfortunate Events is the Netflix adaptation of the popular children's novels by Lemony Snicket. It follows the misadventures of the Baudelaire siblings in the custody of their treacherous guardian, Count Olaf. Obsessed with stealing the children's large inheritance, Olaf will come up with all kinds of nefarious plans to get rid of the siblings. Fun and very well-made, A Series of Unfortunate Events is a show that your whole family can enjoy this summer.
WATCH A SERIES OF UNFORTUNATE EVENTS ON NETFLIX
Valeria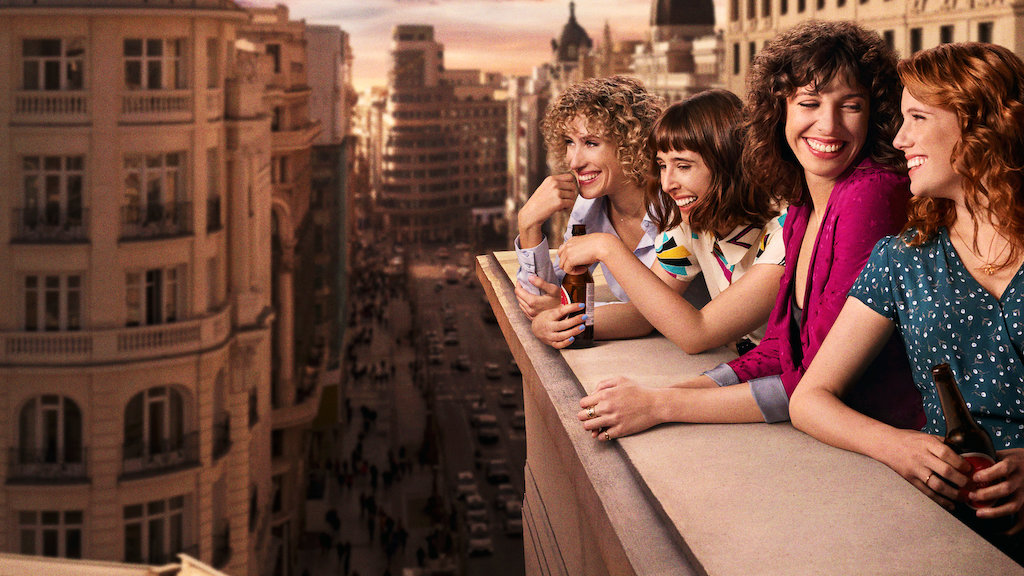 Based on the novels by Elisabet Benavent, Valeria is an excellent show for anyone who has had problems with their partner or is going through a crisis this summer. In it, we'll follow a young woman who has just seen both her job and her marriage implode. Determined to create a new life for herself, she teams up with her lifelong besties. Hundreds of interesting conversations, parties and events ensue, leading to bizarre situations and, of course, summer love. It's perfect if you're looking for a fun, watchable series to enjoy during the hot summer afternoons.
We hope you liked our roundup of summer TV shows to watch on Netflix. What series are you going to watch this summer? Tell us about it in the comments section!