ChatGPT has managed to blow our minds in recent months thanks to its abilities as a conversational chatbot and its great potential as a tool (for programming, text writing, calculation, etc.). And if that's not enough, you can also use ChatGPT on your website and build your own virtual assistant.
Although Microsoft has spent millions of dollars to integrate this technology into Bing, that doesn't mean you have to. Thanks to a free plugin, you will have your chatbot ready in a matter of minutes.
Before starting the process, you must make sure of several things. First of all, your website has to use WordPress, which is essential. Next, you will need to register with OpenAI if you haven't already done so and finally, download Jordy Meow's AI plugin. It's free and it's designed to be used in WordPress.
Create your own chatbot based on artificial intelligence
To get started, you will need to install the Jordy Meow plugin. Once you have done so, look for Meow Apps in your WordPress dashboard menu. Next, select AI Enginle from the submenu and click on the Chatbot tab.
When you are inside, you will find a wide range of options that will allow you to adjust the behavior and appearance of your chatbot to the millimeter. You will also be able to add more than one chatbot in different locations within your website.
One of the settings you should take into account is the "context" section, which is what allows the AI to have personality. This is important because you will be able to tailor your "virtual assistant" to what your website offers. For example, if you are developing a website aimed at children, you may want the chatbot to respond in a cheerful and simple way. In the box that appears, you only have to describe how you want it to be.
The built-in Chatbot Builder will also let us name our chatbot and even leave a predefined greeting or initial message. The conversation style is almost identical to ChatGPT, as it uses their technology to function. Jordy Meow's plugin allows you to adjust more technical details, many of them related to the AI model you choose to use for your website.
Although the free version of the plugin allows you to do many things, the truth is that there are others that are reserved only for the Pro version. If you finally decide to checkout, the chatbot will do things like read your website and respond to your visitors based on that. For example, if a customer wants to know something specific about a product you sell, they can ask the chatbot directly. Pro accounts start from a base price of $30, so it's not too expensive an option either.
How do I implement the chatbot on my website?
Luckily, the chatbot integration process is quite easy. You'll find a code below the creation panel that you can then insert into your WordPress page. Note that you'll be able to customize the design of the chatbot in all areas. Do you want it to appear as a pop-up window? Or do you prefer it to be full screen? What colors will it wear? It's up to you.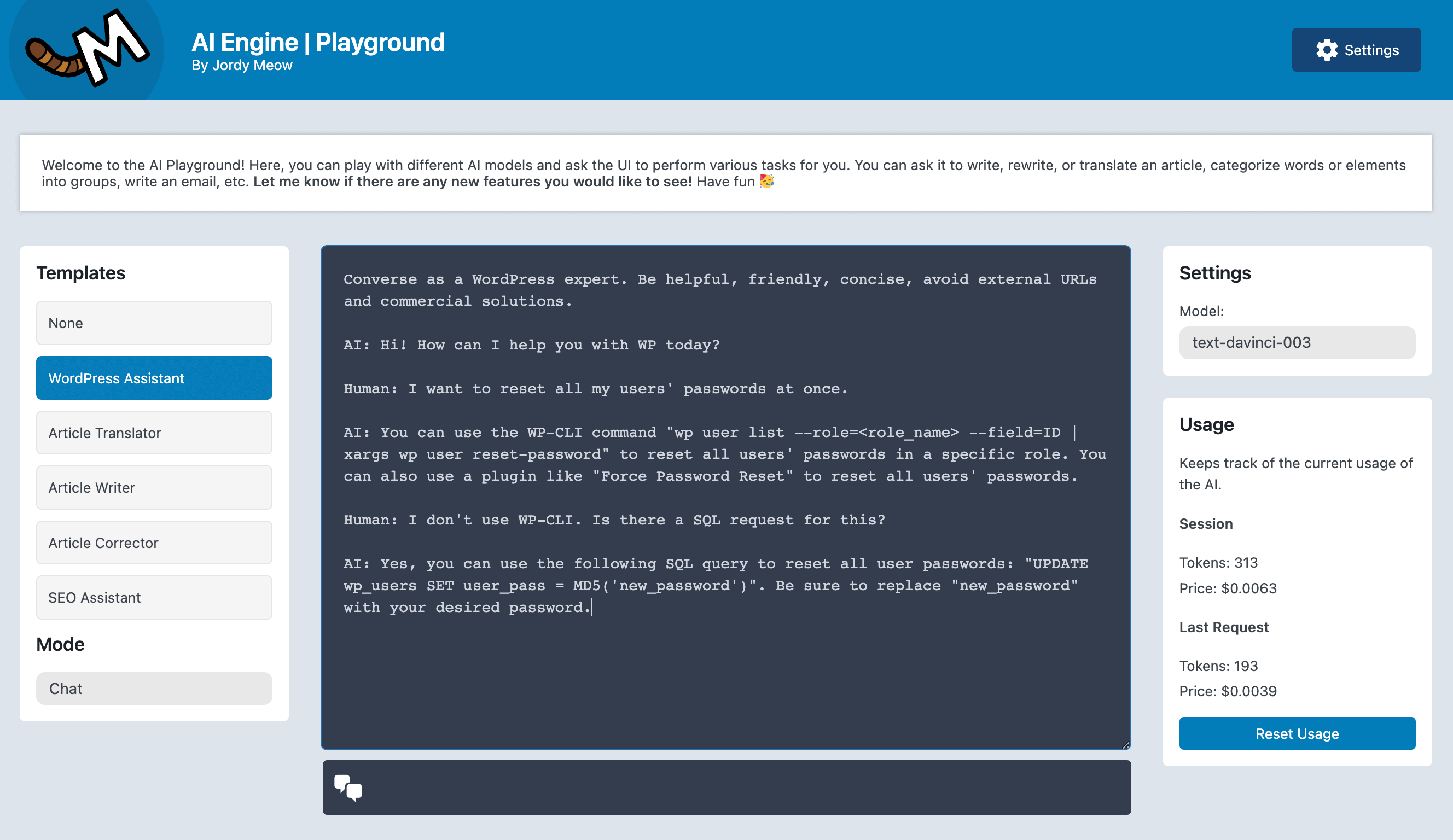 Be careful with the price
It is true, we said that the plugin was free. However, access to the OpenAI server is not. Although its price is not unreasonable for what it offers (basic questions and answers cost a fraction of a cent), its cost can increase if the chatbot on our website is heavily used.
The plugin itself will count the cost of each request made to the ChatGPT servers. However, if you don't want to get a surprise on your bills, you will need to configure your account on the OpenAI website to set a monthly billing limit. You can find this option by clicking on your profile and then in the top right corner under Manage Account > Billing > Usage limits.
When you reach your billing limit, the chatbot will stop working and return an error message to users. Although it may not be the best possible option, we must keep an eye on our wallet first and foremost.
Power your website with ChatGPT
As you have seen, implementing a chatbot on your website couldn't be easier. Thanks to the potential of artificial intelligence, we can take our website to the next level and offer better customer service. Will you try using ChatGPT on your website?