There are actors who leave an indelible mark on the history of cinema, whose names are engraved in collective memory and who are remembered for roles that have become part of popular culture. When we hear the name Marlon Brando, our skin quickly tingles as we remember him portraying Vito Corleone. When we think of Audrey Hepburn, a brutal dose of elegance comes to mind in the form of a headpiece and pearl necklace. And when we think of Tom Cruise… something like this comes to mind: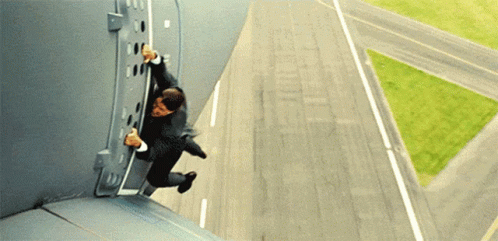 like this:
Or… like this: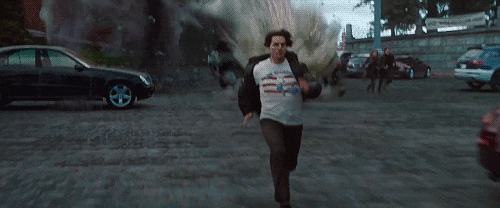 Converted into the quintessential action actor, at 60 years old Tom Cruise continues to star in some of the wildest moments in modern cinema. And it's not just that he performs his own dangerous stunts—no stunt doubles for him—or that he still fills theaters with some of his legendary franchises—Top Gun: Maverick was a massive hit, and the Mission: Impossible series remains an ironclad franchise. But he also embodies the character in his private life.
Just a couple of weeks ago, Tom Cruise won the Best Actor award at the MTV Movie & TV Awards. And since the ceremony didn't take place due to the writers' strike, all the winners sent videos celebrating their victory. Well, let me tell you that this was the video sent by the good old Tom:
Tom Cruise has become a legendary actor in every sense of the word, and not just because of his dedication to action. The actor has worked with directors such as Stanley Kubrick, Francis Ford Coppola, Martin Scorsese, Brian de Palma, Paul Thomas Anderson, and Oliver Stone. The list is endless, as is his string of roles: from a sensitive artist in Magnolia to a classic monster in Interview with the Vampire. He has dabbled in every genre, and overall, he has come out on top… and although the Academy may not be his best friend, the audience has been since the beginning.
With the upcoming release of the next Mission: Impossible installment, where Tom Cruise will once again portray his beloved character Ethan Hunt, we take a look back at the career of one of those performers who will be eternally remembered in collective memory.
The typical actor-waiter
Born on July 3, 1962, in Syracuse, New York, Thomas Cruise Mapother IV – an incredible name that sounded better as Tom Cruise – had a childhood marked by constant changes. The actor didn't have an easy time: he suffered from dyslexia and moved back and forth between his broken family, divided between the United States and Canada. In fact, Cruise lived for a time in a Franciscan monastery in Cincinnati.
But what saved Cruise from going down the wrong path was his passion for acting. After pursuing boxing and sustaining a serious injury, he enrolled in theater, which quickly became more than just a hobby for him. So much so that in 1980, he moved to New York with the intention of succeeding in this industry, and he did it like many of us would, by starting to work cleaning restaurants in the theater district and as a maintenance worker.
His resilience and dedication led Cruise to land his first leading role in the film Risky Business in 1983, where he portrayed a young entrepreneur who delves into the world of illicit commerce. The actor had already been appearing in films for two years, such as Everlasting Love, Taps, The Outsiders (directed by Francis Ford Coppola). Although he played small roles in these films, he began to make a name for himself in an industry where his particularly handsome appearance made him easily accessible.
But this role was just the beginning of an impressive career that would establish him as one of the highest-grossing and most recognized actors of all time. In 1986, he also started to be seen as a great action hero. As the iconic protagonist in the film Top Gun, where he brought the daring fighter pilot Pete "Maverick" Mitchell to life, Tom Cruise became the heartthrob of young people around the world. He was a heroic pilot who could conquer anything, and prior to that, he had already become a knight with the curious Legend directed by Ridley Scott.
After Top Gun, all kinds of roles came his way that solidified his legend: The Color of Money with Scorsese, Cocktail, Rain Man, Born on the Fourth of July, A Few Good Men, The Firm… between the late 1980s and early 1990s, the actor reached the pinnacle of Hollywood and became the actor everyone wanted to work with. But his career was just getting started, and a decade is nothing compared to what he would go on to achieve.
Mission Impossible and other daring leaps without a safety net
1996 was Tom Cruise's year. While actors like Jim Carrey and Eddie Murphy also had a strong presence on the screen, no one could compare to Cruise's dominance. That year, he released two of the most memorable films of his career: Mission Impossible, the epic Brian De Palma film that would become an enduring franchise, and Jerry Maguire, a role that may seem more modest but became one of his most memorable performances.
Tom Cruise was no longer just the young heartthrob who drove everyone crazy, but also a highly capable actor who could lead any kind of film. And if there was any doubt, it was soon reaffirmed by none other than Stanley Kubrick with Eyes Wide Shut and Steven Spielberg with Minority Report.
No one could resist the charms of Tom Cruise, and he is one of the few actors who entered the 21st century with the same momentum as he ended the 20th century. The turn of the millennium not only suited him well but also propelled his career even further. He went from being a trendy star to a top-tier actor who never disappoints in his roles.
Behind the facade of an action hero, there is a man dedicated to his craft and his audience. That's his only secret: Cruise commits 100% to every project he is involved in, as demonstrated by the constant revisions of Top Gun: Maverick until he gave it the green light for release. "I love what I do. I feel blessed to have the opportunity to tell stories and entertain the audience," he said recently. The fact that he does his own action scenes is just another symptom of his passionate and meticulous work.
However, not everyone has always seen it that way. He has been nominated for the Academy Award only three times, and considering his extensive filmography, one might say he deserved more opportunities. He has had better luck at the Golden Globe Awards, but as he himself says, the true recognition comes from the audience's response. Cruise has forged a unique connection with viewers over the years, who appreciate his dedication and commitment in every project. Moreover, his ability to stay relevant in such a rapidly changing industry is a testament to his talent and his ability to adapt to the tastes and demands of the audience.
Still, as is often the case with stars, not everything is as rosy as it seems. Tom Cruise has faced criticism and controversies over the years, especially regarding his religious beliefs and involvement with the Church of Scientology. However, Cruise has shown enough separation between his personal life and professional career, and he has continued to focus on his passion for acting.
With the upcoming installment of Mission Impossible, Tom Cruise will once again demonstrate that, despite his age and troubled personal life, he is a natural actor and a force to be reckoned with on the film set. That's his territory, and although he may have had ups and downs throughout his career, his passion ensures that he is increasingly valued. As Steven Spielberg told him at the last Oscars ceremony, "you saved cinema this year". And he will continue to do so for many years to come.
Some of the links added in the article are part of affiliate campaigns and may represent benefits for Softonic.