The streaming war continues stronger than ever. While a few years ago Netflix and HBO had almost a monopoly on VOD services, more and more platforms are joining the fray. From international services such as Disney+, Apple TV+ or Amazon Prime Video to national bets such as Movistar+ or Filmin, more and more people are joining this new way of watching TV.
However, this year looks crucial for this brand war, and March in particular will be a decisive month. After years of massive subscription increases, with a special peak in 2020 due to quarantine, the data has finally stabilized. As Disney CEO Bob Iger explained in The Hollywood Reporter, "the platforms have been focused on capturing more and more audiences, but it's time to make a profit".
It is for this reason that Netflix has implemented, both in Spain and in many other countries, its policy of not sharing accounts. It is no longer possible to use the same user from multiple locations, which has forced many families to unsubscribe or change their plan. The boycott of the platform has reached such an extent that a Trending Topic has been created with the hashtag #AdiósNetflix.
We still don't know how Netflix's decision will affect its reputation and numbers, but in the meantime another very important battle is going to be fought that will be decisive for the streaming war: The Mandalorian vs. SkyShowtime. March will be a month full of premieres and releases, but these two will undoubtedly be key for the future of the audience.
The Mandalorian Season 3
On the one hand, Disney Plus premieres the third season of its most emblematic and followed series: The Mandalorian. The platform premiered along with this fiction headed by Jon Favreau, and since then it has not stopped gaining followers. Both lifelong Star Wars fans and newcomers to the saga have become loyal to The Mandalorian, and it's no wonder.
Favreau's series is set after the original trilogy, and began as a chapter fiction that follows Mando, a lone bounty hunter who makes his way across the galaxy's most remote frontiers, far from the jurisdiction of the New Republic. After a series of specific assignments, it falls to him to take charge of Grogu, a baby belonging to an alien race all-powerful in the use of the Force.
For two seasons, Mando (played by Pedro Pascal, the protagonist of The Last of Us) and Grogu have lived all kinds of adventures. In addition, they have faced the great threat of Moff Gideon, leader of a remnant of the Galactic Empire, played by Giancarlo Esposito, who is after little Grogu.
Throughout the chapters, and especially during the second season, The Mandalorian has also served to introduce characters such as Ahsoka or Boba Fett, as well as giving the entrance to the return of Luke Skywalker. Therefore, the series has become the most anticipated of the platform, and many are waiting for its third season.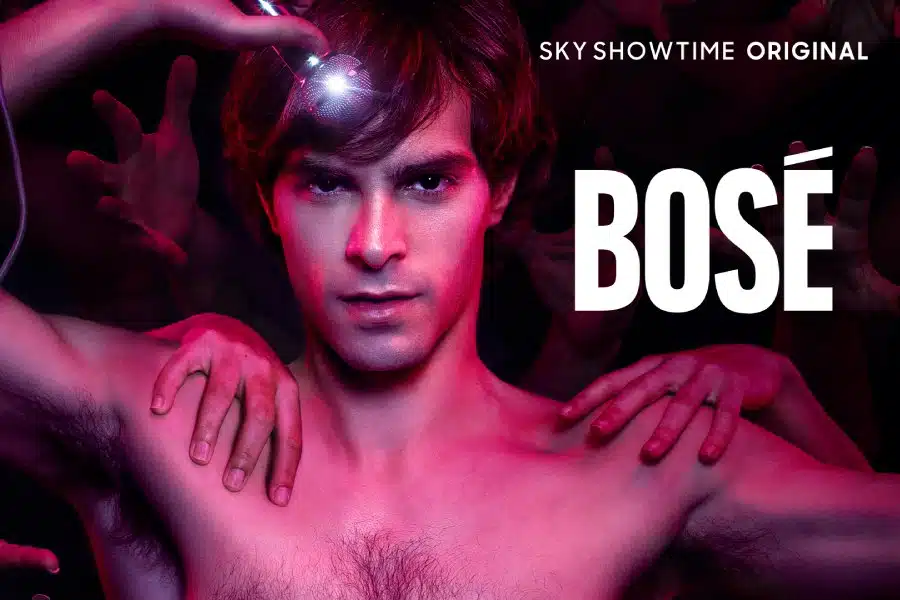 SkyShowtime
It's clear that the new batch of episodes of The Mandalorian are going to make all eyes on Disney+ during March. However, it's not going to be the only platform to stand out. Netflix, HBO Max and Amazon Prime Video all have their own new releases. And, above all, there's one threat looming over them all: SkyShowtime.
Just a few days after Netflix announced its new policy, it was revealed that SkyShowtime would arrive in Spain. It is a new streaming platform that brings with it both imported series and movies as well as original productions. And it comes with everything to gain a foothold in our country.
On the one hand, its catalog is very interesting. It will be the platform that premieres in Spain Halo, the series about Microsoft's video game, and also incorporates all of SpongeBob SquarePants and Fast&Furious. But it has also worked on two original series: Bosé, a fiction about the singer Miguel Bosé that premieres with the arrival of the streaming service; and Los enviados, another original series starring Miguel Ángel Silvestre.
In addition, it comes at a ridiculous price: for only €2.99 per month you can have the entire catalog unlimited if you subscribe for the first two days. Undoubtedly, SkyShowtime is going to fight hard to be the streaming news in March. But are people getting tired of paying for so many platforms?